WESTERN AUSTRALIA ARTISAN DOG TREATS
Helping Take Care of Your Dog The Natural Way
My beautiful dogs Dexter and Khaleesi go absolutely crazy for these healthy treats. Supermarket treats literally make them sick and I never go there anymore. I have such confidence that I am giving them the best, taste and health wise, with Woofing Wonders. It would be coming up to a few years ago now that we got on board. I highly recommend them for all fur children.

DEXTER AND KHALEESI
As Dermatology specialists we have the highest standards for our patients who are often receiving elimination or restricted diets.  We love Woofing Wonders because we can select exactly which treats suit our patients and we know there are no hidden ingredients. What's most important is that even the fussiest and most nervous patients can always be won over with Woofing Wonders. Thank you Jilly and team for making our patients' visits more enjoyable and Fear Free.

Dr Sharon Bryden - Registered Specialists Dermatology
Hi! I'm Kora and I love my woofing wonders treats! I think they are super tasty and mum says they are really good for me too! I was diagnosed with severe arthritis at 6 months old and need good nutritious snacks and woofing wonders are made with high quality goodies and mum says that's important for me! 

KORA
"We have been using and selling the Woofing Wonders range of pet treats for some time now and I haven't found anything else quite as popular for both pets and their people! The Woofing Whitebait is absolutely sensational!"

Gary Beilby
Sama and Tully LOVED their special meatloaf and peanut butter cookies from the recent Pet Expo. I was trying to make it last. Tully kept yelling at me to give her more... So it lasted a matter of seconds! Thanks Woofing Wonders!

SAMA & TULLY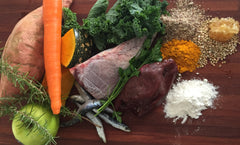 Kangaroo Range:  Our kangaroo treats are a great single source of protein, packed with iron, zinc, vitamins and with high concentrates of CLA's, low in fat and pretty much allergen free. With a range of liver, heart, lungs and jerky, even the fussiest of dogs will be drooling for more.
Doggy Cookies: Our Cookies are made using fresh veggies, fruits and herbs with  selected protein sources. Organic coconut flour, chickpea flour and buckwheat with LSA meal make our cookies not only delicious  but nutritious. A natural way to give your dog the healthiest and tastiest treats that will have them barking mad for more.  Wheat and Grain Free. 
VIEW RANGE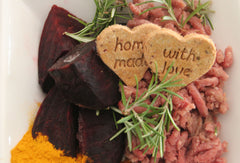 Tasty Crackers: Our Tasty range of Doggy Crackers come in five fabulous flavours. Made with fresh veggies, herbs, and a selection of meats, and organs. Packed full of natural, healthy, goodness. An ideal starter treat for puppies.  Wheat and Grain free.
Superfood Selection: A firm fishy favourite is our Woofing Whitebait fished from the south west coastline, these little beauties are a fantastic source of calcium and omega's 3 & 6. Australian human grade chicken jerky packed full of natural protein. Tripe is a feast of natural probiotics, digestive enzymes and excellent for dental hygiene.  And locally sourced Venison organs make up our Superfood Selection with nutrient rich liver and kidneys. 
VIEW RANGE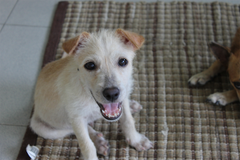 Woofing Wonders Story
Woofing Wonders was founded by Jilly Pleiter in 2014 when the family moved back home to Perth after being overseas for 5 years. Her love for dogs only deepened from their experience overseas with 3rd world shelter dogs.  Jilly has  a Certificate in Animal Nutrition and a Diploma in Holistic Animal Health.
Woofing Wonders ethos is to use local WA ingredients where possible and products sourced within Australia. 
CONTINUE READING...